Host bei Tribe Vibes (FM4), Live-DJ von Kayo und Fiva und HipHop, Soul und Reggae-Liebhaber: DJ Phekt, just for the record.
Aktuelle Top 5
Lee Fields – Faithful Man
Brenk – Gumbo 2
Marsimoto – Grüner Samt
The Mighty Mocambos – Future is here
Aphroe – 90
Alltime Classics
Devin the Dude – The Dude
Bush Babees – We run things 12″
Stieber Twins – Fenster zum Hof
Mobb Deep – The Infamous
William Bell – I forgot to be your lover
Favorite DJs
DJ Babu & DJ Premier
Erste gekaufte Rap-Platte
2 Live Crew – As nasty as they wanna be
Most hated scratch
"Most hated scratch" fällt mir nix ein. Aber die meiste Zeit haben meine Finger beim scratchen wahrscheinlich auf der Dirtstyle "Hee Haw Breaks"-Platte verbracht.
Lieblingsplattenläden
Amoeba Music (San Francisco)Groove Merchant (San Francisco)
Demonfuzz Records (Rotterdam)
Academy Records (New York)
Philadelphia Record Exchange (Philadelphia)
DJ Phekt bei Facebook und Soundcloud
DJ Phekt – 2011 on 45 Mix
[iframe_loader src="<object height="81″ width="100%"> <param name="movie" value="https://player.soundcloud.com/player.swf?url=http%3A%2F%2Fapi.soundcloud.com%2Ftracks%2F32376219″></param> <param name="allowscriptaccess" value="always"></param> <embed allowscriptaccess="always" height="81″ src="https://player.soundcloud.com/player.swf?url=http%3A%2F%2Fapi.soundcloud.com%2Ftracks%2F32376219″ type="application/x-shockwave-flash" width="100%"></embed> </object>  <span><a href="http://soundcloud.com/djphekt/dj-phekt-2011-on-45-mix">DJ Phekt – 2011 on 45 Mix</a> by <a href="http://soundcloud.com/djphekt">djphekt</a></span>"]
(AG)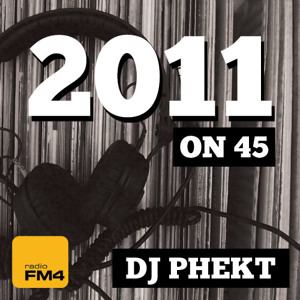 DJ Phekt – 2011 on 45 Mix